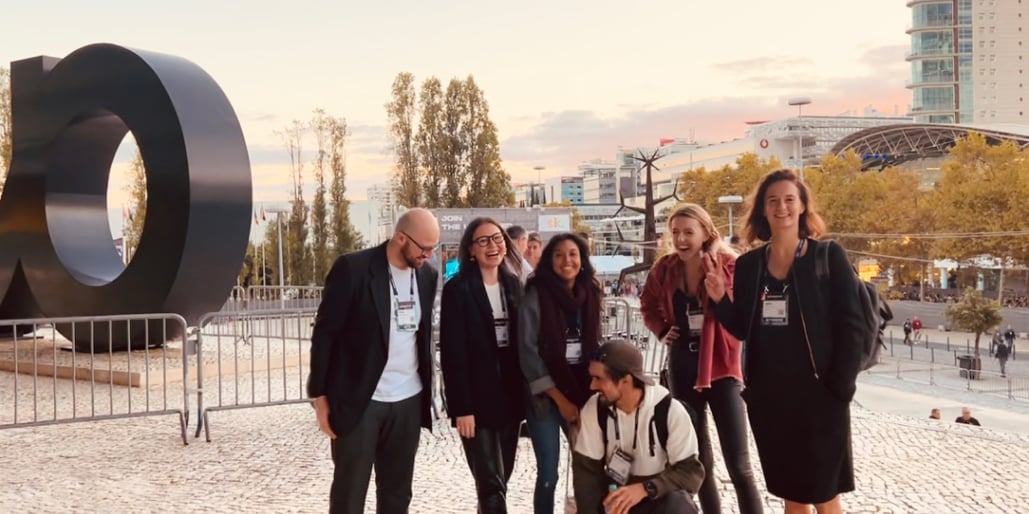 Web Summit is the biggest web development conference, over 75 000 people from all over the world attended. We've had 4 days fully packed with panels, engaging discussions and lots of networking. Was it worth it? What did I learn? What does the future hold in terms of tech trends?
Lesson #1: Sustainability is a must, not a trend
Sustainability was on everyone's lips during Web Summit 2022. Iga, the biggest Formula 1 fan I know, already shared highlights from the Toto Wolff and Oliver Steil speech about the F1 and TeamViewer cooperation and how it will help Mercedes AMG F1 Team to achieve zero carbon emission by 2030.
Another inspiring speech on sustainability was given by Microsoft's vice chair and president Brad Smith. He talked about how to innovate our way out of the climate issues we're facing with new technologies. He mentioned three very interesting companies disrupting the "tech-for-sustainability" sector - SEEDS, TerraPraxis, and Climeworks.
SEEDS - a non-profit that received a Microsoft grant, is the one to remember. By using AI, they are protecting vulnerable communities from the effects of climate change. How? For example, by scanning rooftops in India and recognising homes most susceptible to overheating so that the volunteers can visit them safely and help keep those families safe.
Climeworks - the company developed a sponge collecting carbon dioxide directly from the air and then pumping it deep underground safely and permanently. This technology can be used anywhere in the world and, when powered by renewable energy or energy-from-waste, it's one of the purest forms of carbon dioxide removal.
Terra Praxis - this company is repurposing over 2,400 coal-fired power plants worldwide to run on carbon-free energy.
Lesson #2: Don't be afraid of AI
Artificial Intelligence and its possibilities was also a big topic at the conference. AI experts discussed the potential of the technology and what separates the AI projects that succeed from the ones that don't. The AI technology of today is more so focused on augmenting experiences and helping automating the labour-intensive activities rather than replacing people or things that we are doing.
The fresh examples are conversational AI and the baby steps we've taken towards autonomous driving. The already existing AI-supported augmented truck driver system helps drivers to stay in the lane and enables them to focus on everything that is more important on the road. Conversational AI can already convert your text to speech in 2 hours instead of 50 hours. Now in 2 hours you can hear your voice speaking in the language you don't even know. Exciting, right?
The most remarkable speech in that matter was given by TED's curator Chris Anderson. Anderson shared his idea on how we should tackle the problem of "one-sided internet bubbles" created by the AI algorithms amplifying the voice of those who think the same. Apps are designed and algorithms are trained to meet KPIs - keep the user in a loop and increase engagement and those are met when the user is shown content resonating with his opinions. This creates a "bubble" of like-minded people and causes society polarisation. In these challenging times, people have to work together, and thus we need to rethink how we design apps and train algorithms.
"Don't design solely for user experience but for the user's reflective self." - Chris Anderson
Lesson #3: Ship quickly
The CPO of Figma shared a great example of a product that was built with a solution-first mindset and then iterated based on user feedback - Uber. This is also how they approach product development in Figma. Figma's secret sauce? Ship quickly and iterate. But how to know when you are ready to ship in the "work-in-progress" world? When to review the work when it's constantly changing? How to give feedback to work when it's always evolving? Find Figma's CPO tips below and his presentation here:
Review the work at a predictable cadence versus at the perfect moment
The form feedback takes is just as important as the feedback itself
Be less precious about the work that ships
Lesson #4: Business is human-to-human relations in the end
The best part of the conference for me was meeting people. Networking. Chitchats. People were everywhere. Standing in the security queue? At least 2 or 3 people standing in front and behind you become your friends. Waiting for food? Another amazing opportunity to discuss business ideas or the most interesting panels so far. People attending Web Summit shared the same goal - meet others and expand their network. Chitchatting was super easy as all attendees shared similar interests. You could always spot the basic information on the lanyard and just start the conversation by asking "So tell me what <company-name> is doing?" and then scan their personal QR code from the lanyard to connect to each individual in the Web Summit app.
Seeing the white-collars-by-day in a more casual setting during evening Night Summits or exclusive events for Web Summit attendees like the David Guetta concert was also interesting. People from all over the world, different backgrounds, passions and ages were there. All working at some kind of a tech business. All also showing their "human" factor in the more chilled evening setup. It was a great reminder that it does not matter if you are a B2C or B2B business, in the end it is all built on human-to-human relationships.
Lesson #5: Lisbon is beautiful
Between the sessions and evening networking I was trying to find an hour or two to explore Lisbon. It is a beautiful city with narrow streets, great city viewpoints and Pastel De Nata screaming "Eat me!" from each bakery window. I am proud to say I accomplished my goal of eating at least one of them a day and I will definitely be coming back to explore the city more!
And a quick note to everyone at Frontkom: consider going on a 2-day trip to Lisbon when on your Madeira workation.
If you want to receive updates about events just like this, sign up for our newsletter. See you at Web Summit next year!