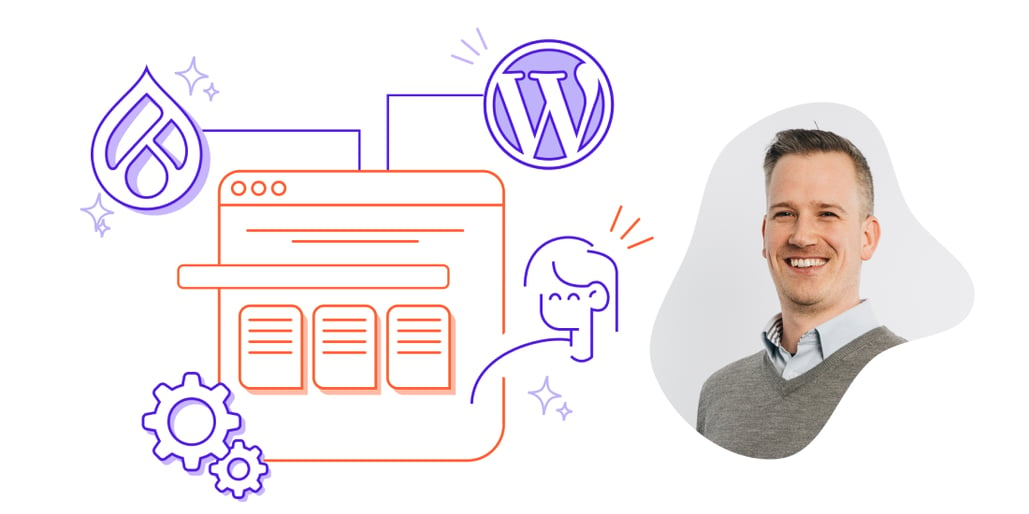 Your content management system (CMS) is crucial to your business, especially if you have a complex content strategy. Whether you already have a CMS in place and are looking to find a better solution or you are starting a new website from scratch and want to explore the different possibilities - both Wordpress and Drupal are sure to come up during your search. They are both very popular content management systems, but which one fits your organisation better? Let's break down their differences, pros and cons.
A Short Introduction To Wordpress And Drupal
In 2023, Wordpress continues to be the biggest CMS worldwide with a 64.3% market share. It's used by some of the top Fortune 500 companies like NFL or CNN. Most people choose this CMS platform because of the wide variety of plugins as well as themes which make it easy to set up a website even as an absolute beginner.
Drupal is certainly not the biggest when it comes to CMS market share. However, it is used by e.g. NASA and Tesla as well as many government and university sites, due to its enterprise-level security and structured approach to, well, content management. Drupal is therefore often recommended for large projects with complex customization requirements.
Now, let's take a look at the key elements of comparison you need to take into consideration when choosing a CMS: ease of use, SEO, security, customisation and performance.
Drupal vs. Wordpress: Which One Is Easier To Use?
Both Wordpress and Drupal are relatively easy when it comes to the core installation on your hosting provider. Wordpress is easier to customise without any technical expertise and that's what makes it so popular, especially among beginners. It's known for how user friendly it is. With Drupal you can get started with a basic page pretty easily, but the learning curve is steeper once you start getting into more custom features which is why Drupal calls for a professional web development team very often. However, it is very user friendly once it's all set up and ready to go.
What it really comes down to is the need for customisation and complexity. Past a certain point both Drupal and WordPress require skilled developers, so it's a question of how much you expect to grow as a business. If the user interface that comes out of the box with WordPress suits your needs you probably won't find other solutions with an easier user experience. If your organisation requires a lot of custom logic and UIs however, Drupal can probably provide that more easily and better.
Wordpress vs. Drupal: Which One Is Better For SEO?
Another important thing to consider is how well Drupal and Wordpress sites do with SEO or Search Engine Optimization. When it comes to CMS platforms, good SEO is a must. Both Drupal and Wordpress have plugins available that will make optimization easy and quick, however, WordPress will provide an effective solution faster, that will fit a typical and general solution. It's also important to keep the CMS up to date. It's very easy to update Wordpress, but it can often lead to bugs and issues with plugins. To update Drupal is a bit more complicated. But in both cases, if your website is of a certain size, you should probably call in professional help from web developers or a web development agency specialising in Drupal.
Drupal vs. Wordpress: Which One Is More Secure?
Both solutions are secure if you keep them up to date. Wordpress security is something that concerns some site owners. Security issues are among the top concerns regarding the WP Engine and Wordpress sites. While the Wordpress core itself is rather secure, the third-party plugins and premium themes create security vulnerabilities. Most hacker attacks on Wordpress websites happen through plugins.
When it comes to security issues, Drupal offers a lot more peace of mind. There's significantly less free plugins and third-party themes, making Drupal sites less exposed to potential attacks. This is one of the main reasons Drupal websites are so popular in the education and government sectors.
Keep in mind, that both Drupal and Wordpress can be very secure. It all depends on the development of the site, hosting etc., but generally Drupal sites would be considered more secure.
Wordpress vs. Drupal: Which One Offers More Customisation?
When choosing a CMS, customisation is a really important decision-making factor. After all, every website has its own special needs. Maybe you need custom post types? Or do you need several different content editors for your news site? Both Drupal and Wordpress offer customisation possibilities. Generally speaking, Drupal is a better choice for complex projects that require custom development. However you will most likely need the help of a freelance web developer or a web development agency to implement all the custom solutions in Drupal. Both Wordpress and Drupal sites can be customised with plugins or themes, but keep in mind that the Wordpress community is significantly larger than the Drupal community. This means there's more third-party solutions for Wordpress web sites. But if you start mixing too many of these plugins, you'll find conflicts and challenges that Drupal is built to handle. It is possible in both systems, but at some complexity level Drupal will probably give you a better ROI.
Drupal vs. Wordpress: Which One Is Cheaper?
Both Drupal and Wordpress are free, open-source CMS platforms, which means you don't need to pay anything to get started building your web project, landing pages or online store. The overall cost of running a Wordpress site or a Drupal site ultimately comes down to your needs.
If you hire Wordpress developers and invest in costly plugins - Wordpress would be more expensive. The advantage here of using Drupal and hiring expert Drupal developers right away is that you will build custom Drupal modules instead of paying for third-party solutions - and the cost of those can really stack up, especially when scaling your business.
Wordpress vs. Drupal: Which One Performs Better?
The Drupal core isn't very resource-intensive, meaning it doesn't need much time to load content and is a great choice if page load times are your priority. Wordpress websites tend to be performing less efficiently, mostly due to the amount of third-party plugins. You can try to optimise the performance of your Wordpress site or use Wordpress's hosting platforms and services, but it is an additional cost. The short answer to this question is that it all depends on the setup plugins you choose - not really if it's WordPress or Drupal.
When Are Wordpress And Drupal Used The Most?
To make a decision on which CMS to use, it's good to take a look at some of the use cases of each one and the most common applications.
When Should You Choose Drupal?
Drupal is less popular than Wordpress, but it is the preferred choice for most government websites around the world. You can even check out this comprehensive list of websites using Drupal. The reason for Drupal's popularity among governmental websites and web services is because it allows them to create complex projects with multiple levels of user permissions for multiple site stakeholders. Drupal is also a great choice if you have complex integration needs or customisation needs. It is often used by large enterprises for their intranets.
So, as a general rule, if you need a more complex content management system that offers security as well as customisation possibilities - Drupal might be the better choice. It's also a good match for multilingual sites, because while both Drupal and Wordpress enable you to create content in different languages, the multilingual features are built into the Drupal core and Wordpress calls for an external plugin to make multilingual content possible.
When Should You Choose Wordpress?
Generally speaking, Wordpress offers a lot of possibilities for beginners and is very user friendly. Even a quick Google search will tell you it has a lot of advantages and is very popular among all different types of businesses and industries. The learning curve is not steep, making it an ideal choice for small businesses, eCommerce sites or publications. You can easily install Wordpress, customise it to your needs and start using it right away. With that said, if you need more complex user access levels or a very complicated content management system - consider Drupal instead. Wordpress is a very good starting CMS with a friendly User Interface and while it can be used for larger sites it's not usually recommended.
How To Decide Which CMS To Use?
It is not a simple decision. There are so many factors involved that we can't really give you an answer in this article. But what you need to consider and probably discuss with an agency are things like:
What solves our needs now?

How are we scaling this in the future?

What kind of potential and ambitions do you have?
An overpriced project could be bad for business, but a cheap website could hold back your business and be bad for your branding and your customers' journey.
Wordpress and Drupal are both great CMS choices, so it can be hard to decide which one will be the better fit for your business. If you can, it's best to partner up with a web development agency that will help you make this choice based on your needs and business goals and then implement the chosen CMS along with any custom features that you need. However, if you need to make the decision on your own, you can always check out Wordpress and Drupal themes that are available online as well as existing websites using each CMS to figure out which one will be the better fit for you.

Per André is a Co-founder at Frontkom with 14+ years of experience as CTO and CIO. He has extensive experience with people and technology for both private and public sector. He is also co-founder of Dignio Health Tech, SMSpay, Web3 enthusiast and Co-pastor of 3:16. Per André writes about CMS, headless, awesome tech and team composition and efficiency.