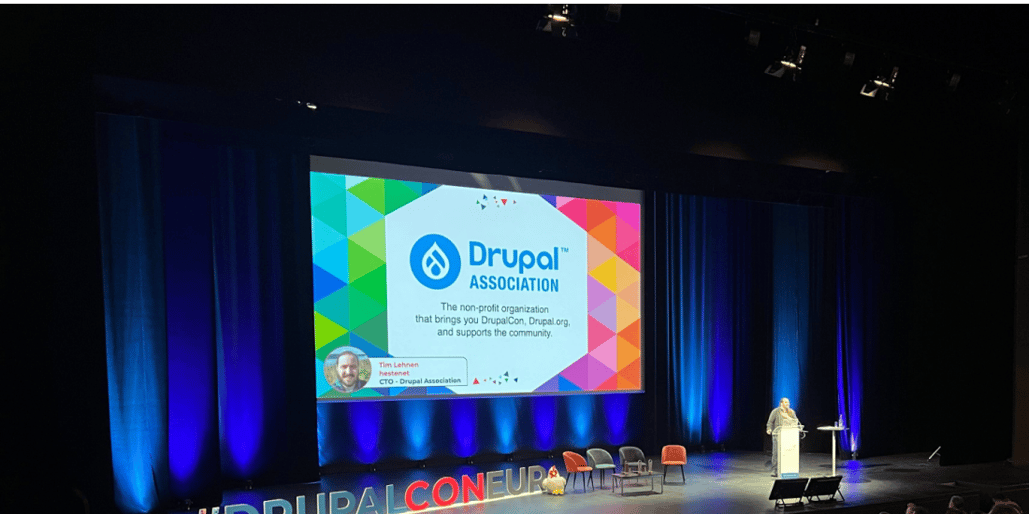 DrupalCon Lille is over, and it is clear that Drupal is more relevant than ever in the modern CMS landscape. The Drupal community probably has one of the strongest technical skills in the global CMS market, and how constant the improvements and modernization has been throughout the years is simply impressive.
Drupal is getting more secure, more scalable and even more performant every year. With the total package of an ecosystem and infrastructure for contributions makes it also possible to stay relevant and keep at as a solid foundation for large scale projects all over the world.
Here are our five biggest takeaways from DrupalCon 2023:
DriesNote
The DriesNote is where the development direction for Drupal is announced (so it's kind of a big deal). There was a lot to talk about here, but the highlights were:
Drupal Association will focus on marketing and outreach, which was a welcome message. Even though Drupal is already huge within certain segments, we could do with some more exposure.
A delegation from two large Drupal companies will participate in Web3 next year, but will represent Drupal and not themselves in a collaboration effort.
The Drupal "Open Web Manifesto" has been published, to cement Drupal's dedication to freedom, decentralization, inclusion, participation and empowerment.
Frontkom session about Drupal Gutenberg
On the first day of DrupalCon, Frontkom hosted a session about Drupal Gutenberg in front of a packed room. Last year Frontkom got funding from DrupalCon Pitchburg to improve the editor and make it more tightly connected to Drupal, which probably helped with the turnout.
WordPress launched Gutenberg i 2018, so we think it's high time Drupal installations everywhere get the same, smooth editor experience. We met with the Drupal Association and discussed our open source efforts, and got confirmation that we are going in the right direction with Drupal Gutenberg!
About 95% of the people showing up were technical architects and developers eager to see the features and best practices to get moving on their own projects.
In this session we showed how the editor experience of the future looks in Drupal: Sleek, slick and speedy. We showed a few demos of how the user experience is in Drupal Gutenberg, and then divided into two groups where one of them was technically focused and the other more focused on the selling points and how you enable your whole organization to use this editor - as an agency or as a site owner.
As for the future of Drupal Gutenberg: We want to improve solutions for future updates and make it easier for people in the Drupal Community to get started with Drupal Gutenberg.
Lupus Decoupled, Wunder
Speaking of easy to get started: Lupus Decoupled is a really easy way to spin up a Drupal installation and test how modules interact with each other, without spending hours setting up a database which will soon be deleted anyways.
Wunder has made a similar solution: basically a ready-to-use decoupled project.
More and more projects are opening up to this kind of thinking: using e.g. Gitpod to make Drupal distributions a one-click experience. We are very happy about this, and also very happy that Drupal Gutenberg worked with Lupus Decoupled on the first try.
Admin UI
Drupal's admin UI has not been changed much from Drupal 7 until the current version: Drupal 10.
Admin UI aims to develop a modern administrative interface that offers quick access to common tasks while ensuring a well-structured user experience. Extensively tested with users, it has been validated to successfully achieve the project's goals. Furthermore, a strong emphasis has been placed on accessibility to ensure a user-friendly experience for all.
Admin UI Is being redesigned and rethought to target 3 personas, not just just "a user": Administrator, Site Builder and Content Editor.
Different menus for different user types will be in core.
Top bar will be replaced by a contextual menu.
Sidebar menu customized for the current role.
Gin Theme has already a lot of improvements, and will be the testing playground for the future.
Project browser
Project Browser enables a new and easy way for site builders to explore, find and get info on how to install modules without having to go outside of their drupal site. This means that you will get suggestions for useful modules directly in your Drupal backend. With a new UI it will also be faster and easier to use.
On the technical side it's a decoupled component that fetches data from Drupal.org API which will make sure it's up to date at all times.
The goal for the project is to make it easier to find and install modules for people new to Drupal and site builders.
Next Drupalcon Europe
In the closing session the next place and venue for DrupalCon was announced. After France this year, DrupalCon will be held in Barcelona in 24.–27. September 2024. And that won't be the first time. We don't know the venue yet, but the city has hosted DrupalCon several times before with success, so we're trusting that it will be good!
Thor André is sales director in Frontkom with 20+ years of experience working with web projects. Thor André is an expert in Wordpress and Drupal and was also chairmain of the board in Drupal Norge for some years. He writes about CMSs and how to leverage technology for business growth.