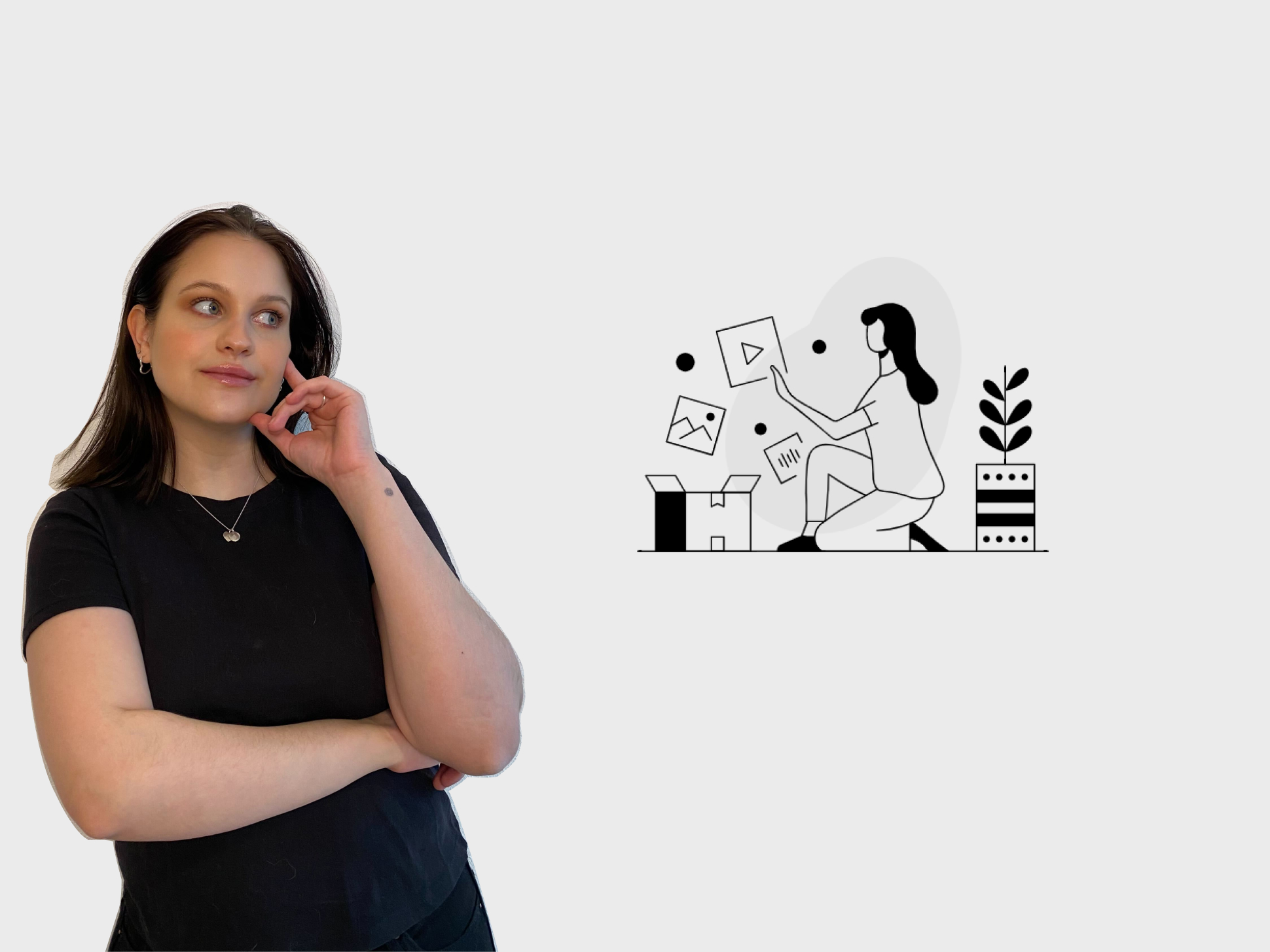 Content marketing is a very effective marketing strategy if done right. But how much do you need to invest for a successful content marketing campaign?
To give a spoiler before we start: the answer is mostly "it depends". It depends on how much content you have and want, what your tech stack is set up for (do you have a CRM which is able to send content to the website, for example?), what personnel you have available, and many other factors. But here, I've distilled the content marketing process down into its individual components for you. So by the time you've finished reading, you'll have a decent idea of what kind of price range you can expect for your particular business case.
Just a note before we get into it:
None of the parts of this process make sense to do on their own. The only time you should just buy one of the parts from an agency is if you know that your organisation is rigged to do the other parts effectively.
For example, hiring a content creator and expecting them to write a blog post right away requires that you've done the research part yourself. Otherwise, you'll end up with bad content and wasted money. If you only want the SEO analysis, you should make sure that you have done the research and are able to consistently create quality content to capitalise on the insight the analysis gives you.
What makes for a good content marketing campaign & how much will it cost?
Content marketing is a great strategy for targeting your audience and engaging potential customers. Especially when it comes to long-form written content that can generate steady traffic through organic search for a very long time. That's why SEO is such an important part of content marketing. With that said, there are several elements you should be aware of and focus on:
Audience & Market Research
Setting goals
Content production
Distribution Channels & Promotion
Data analysis
Thorough target audience & market research
Content marketing only works if your content strategy is based on solid market and target audience research. It's key that every piece of content you put out is tailored to the needs of your potential customers at different stages of their buyer's journey. Many companies don't see the value of investing in this research, but it's a crucial element you can't skip if you want to have any success with your content marketing. Every process will have unique aspects to it, but I can provide you with an example of what a general "Insight" phase might look like:
User research
Employee interviews
Workshops to create content subjects
Executive and summary report
Depending on the scope, this phase may vary in price from 5-25k euros if it's a one-time thing. An example of needing a single report would be analysing a business and the market when developing a new website.
In the "cheap" end, you'll get some pretty surface-level analysis, but it might still be useful. On the other end of the spectrum, we're looking at an almost academic approach which gives deep insight into customers and your company.
In short: you get what you pay for
Involving the agency in a short-term project will usually be relevant early on and may give you some quick wins. But as time goes on, the report and recommendations will become less and less relevant. This is because the agency has only barely scratched the surface of what your organisation is about and has likely focused on the big-picture content. While interesting, it doesn't give much value to the long-term strategy of the company.
Just keep in mind that in content marketing, you're realistically looking at a time frame of six months before you start to see results. A small engagement should therefore mainly be used to see what kind of chemistry you have with the agency and evaluate their processes, not whether they are good at getting results.
Just to give you an example - this is how we grew traffic to our blog site in six-seven months with a clear content marketing strategy:
Setting clear & measurable goals
When setting goals, think about what are your main objectives when it comes to content marketing. Do you want to raise brand awareness, retain current consumers, or generate new business leads? Depending on what your endgame is, the goals will be different.
We use the S.M.A.R.T framework to make sure the whole organisation agrees on the goals we set. One initial workshop takes about half a day, but setting up actions to achieve the goals and prioritising them in order of ROI takes more time. Expect a range of 1000 EUR for a small engagement and up to 10 000 if you want the best return on investment.
The reason for this is that, yes, we can do the workshop in a hit-and-run fashion and leave you to it, but chances are you won't get much out of it. There is no value aside from the initial payout in doing hit-and-run projects. By focusing on short term "wins" our clients will forgo the real advantage of aligning goals with long term digital strategy: A dynamic framework for creating content which contributes to your bottom line for years.
Creating diverse types of content, and a lot of it
Depending on your business needs and content strategy, you will need to invest in different content types suited to your target audience's needs. Some users prefer emails, some like reading blog posts and articles, others respond well to video content. This is often the most expensive phase, because it should happen over a long period of time.
It must be said, though, that just focusing on costs in this phase is a mistake. After all, the goal is to get more paying customers. A healthy-sized content bank will pay you back in dividends, because the internet is a fickle mistress. Let me explain:
Out of a hundred content pieces, perhaps five to ten of them will continuously bring in customers over the next five to ten years. Then why not just write those evergreen articles, and leave the ninety-five others on the drawing board? Well, the fickleness of the internet means that we can only make educated guesses as to which article or video will strike a nerve.
Sometimes a great and well-researched article about making coffee will gather dust, while one that was only meant to be a short intro to the subject of coffee filters will rise to stardom. Maybe a few people read it on the same day, liked it, and posted it on Twitter. Those people were followed by some other people, and some of those were quite influential. One of the influential ones was just thinking about how to make filter coffee without the filter taste that morning, and suddenly you're trending.
There are ways to increase your chances of creating evergreen content, though. As part of the research, you should for example get to the bottom of which types of content are preferred by your target audience and include them in your content marketing strategy. For example - it makes no sense to invest money in video production if your target audience doesn't use YouTube, TikTok etc. and instead prefers social media channels like LinkedIn.
The bottom line
The cost of content creation will be different depending on the type of content as well as the amount of content you want or can produce and publish per month.
When you hire an agency they'll not only create content, but also set up the editorial process around it: Conversion routes, content offers, landing pages, and so on. This takes time. But maybe it makes more sense for you to hire a content creator on an hour-to-hour basis, which is cheaper.
At Frontkom, we sometimes do limited projects where we write a set number of articles for a fixed price. The purpose of this is just to evaluate whether we want to work together because the results of content marketing are seldom immediate. You'll get the best ROI from a retainer agreement because the agency can optimise the content over time and make more of what works.
One article normally takes around a full workday to complete, including creating custom illustrations, images, CTA's and some research. We estimate about one and a half times that for a video.
Keep in mind that more content isn't always better - you should tailor your marketing efforts to the needs of your potential customers. This means that sometimes it's better to publish one eBook per month or one long-form article per week instead of pushing out shorter blog posts every few days.
This is why it's a bad idea for you to pay per piece of content unless it's part of a trial period. You should find an agency which focuses on what's best for your specific case rather than just producing the maximum amount of content pieces. But since I promised to tell you the cost, a typical example might be 4-7 000 euros for 5 articles for a trial run, and about the same per month for a retainer.
Well-thought-out distribution channels & promotion
Another element that's crucial for a successful content marketing strategy is choosing the right distribution channels for your content as well as promoting it. Without a good distribution plan, your writers or graphic designers will spend time creating excellent content that might never see the light of day. After all, content that no one will ever appreciate is not good content.
When it comes to distribution and content promotion, it's pretty much impossible to make an estimation of cost because it all heavily depends on the specific needs of your business and target audience. For example, the cost per click for keywords or phrases can range from a few cents to over a hundred euros.
It's also important to take your resources into account - not every company can invest in paid advertising or spend money on conferences etc. Conversely, even if you do have an unlimited budget you could spend freely that doesn't mean you should. It's important to think about which distribution channels will actually reach your audience and what your ROI will be if you decide to spend money on advertising.
Many marketers use platforms like HubSpot to manage different channels and content, which is a great idea, especially if your strategy has a more complicated editorial calendar for multiple channels. Besides that, a CMS/CRM like that can also help your content creation process, making it more efficient and organised.
Implementing Analytics & making data-based decisions
All good marketers will tell you that analytics are crucial for content success. After all, you need to measure your content's performance somehow. Depending on whether you're executing your content marketing strategy yourself or working with a marketing agency or individual marketers - the complexity of your analytics set-up will vary.
One benefit of working with an experienced agency is that they likely have used various different tools and software in the past and can choose the best stack for your specific business and content marketing needs. You must include those tools and software in your content marketing budget because they are essential to making smart decisions moving forward.
Based on data, you can assess whether an article, video or graphic is doing well and calculate the ROI to see how much content marketing earns for your company. It's also crucial to set up proper analytics on your website and related landing pages to track their performance and gather further information about your target audience. At the very least, you should have:
A standard setup to track the performance of content (e.g. Google Analytics or Matomo)
Top keywords to make sure the content is visible in search engines (and a tool like Semrush to keep track of your positioning)
Some sort of automated reporting (like Google Data Studio - now called Looker Studio)
An ad spend budget and a preferred platform (e.g. Google ads, Facebook or LinkedIn)
You'll get far with this setup, which will run you about 1 500-10 000 euros to give you the initial basics, depending on what tools you already have available. To keep optimising, though, will require a partner agency on a retainer.
What is the total cost of content marketing?
In truth, you can make any marketing budget work. Sure, a bigger budget will enable you to create more content, hire more writers, and make more videos or infographics. However, sometimes your efforts will not yield results, no matter how much you spend. That's when you should think about teaming up with a marketing agency that has experience with content marketing and can take your company to the next level marketing-wise.
An agency is a great idea, especially if your business is growing rapidly and needs a lot of content. But another option could be to hire a content creator for X hours, in cases where the goals and methods are clearly defined.
There is a lot of value in hiring someone long-term, as the agency will get to know your business through and through and is, therefore, able to produce more than general content about your field. Instead, they will be very specific in their targeting, making you rise to the top of search engines and ad spaces for the customers you really want.
If you're looking for an experienced team of content marketers to help you with your blog, website, video content and other media channels - contact us and let's get this process started!