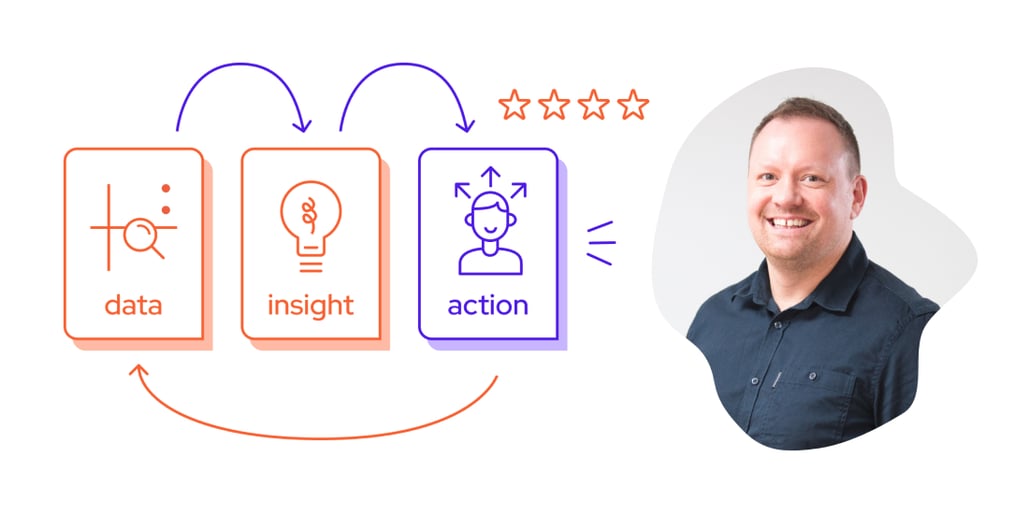 Proper analytics take out the guesswork out of running an eCommerce business. Collecting data will enable you to increase conversion rates, optimise your funnel and, ultimately, grow your business. Here's a look at how to be more data-driven and leverage analytics and marketing tools for eCommerce business growth.
The Data-Driven Mindset
This is important: A lot of businesses have an analytics set up, collect data and perform data analysis but are not yet data-driven.
Being data-driven means making key decisions based on data and metrics instead of relying on previous objectives or preconceived notions.
While sometimes it can be hard, adopting this mindset will help you and your team make the most out of your eCommerce analytics and increase the effectiveness of any marketing campaigns you're running.
5 Key Benefits Of The Data-Driven Approach For eCommerce
Implementing the data-driven mindset to your business will bring in huge competitive advantages. Partly because so few of your competitors have done it, so you'll quickly get ahead of them. But it'll also allow you to be more intentional with your actions, bringing an element of scientific accuracy to your decisions.
1. Personalised Shopping Experience
By gathering user behavior data and tracking other metrics within online stores, you will get a deeper understanding of what each user is like and what they'd like to see within your online store. This data will enable you to personalise their shopping experience, which is a proven strategy for increasing online sales.

Read more: How to personalise your shopping experience
2. Maximised ROI On Marketing & Sales
We all want our sales and marketing efforts to be as successful as possible. Well, by employing some eCommerce data analytics and using them to guide your marketing decisions you can maximise the ROI from those marketing campaigns and sales efforts. If your marketing strategy is based on data analytics, you are sure to see better overall performance.
3. Better Cross & Up-Selling
Circling back to customer behavior data - by tracking the users' behavior across the entire customer journey you can find perfect opportunities for cross and up-selling other products from your eCommerce website. This will increase your average order value (AOV) which is one of the key performance indicators for any online store or business. Using all the data from analytics tools will also enable to increase the customer lifetime value (CLV) which is another crucial KPI for eCommerce.
Read more: How the financial advisor Expander is able to serve their customers through years of growth.
4. Customer-Oriented Product Development
If your online store offers products that you develop in-house, leveraging marketing analytics and customer data to guide product development is one of the best strategic decisions you can make. By using marketing data and measuring customer satisfaction, their preferences and shopping behavior, you can tailor your products to fit their needs (or optimize pricing within your eCommerce), increasing sales as a result.

Read how GoodLoot used customer data to revive their brand.
5. Overall Increased Growth
You can probably already tell, but being data-driven and leveraging all your data and analytics tools is a goldmine of actionable insights that can increase the effectiveness of your eCommerce marketing, lower your customer acquisition cost and increase the average order value leading to overall growth of your eCommerce website. Whether you're the head of marketing, the eCommerce owner or store manager - this is sure to be one of your top goals and objectives.
See how we helped Avani, a Portuguese cosmetics brand, make data-based decisions to increase their conversions five-fold.

Types Of eCommerce Analytics You Need To Measure
Within the realm of eCommerce analytics, there's of course various different types of metrics and KPIs that you can track. What's important here is to carefully choose the metrics you and your team are going to measure. Depending on the specifics of your eCommerce company, the need to track particular metrics will be different. So keep that in mind when looking at the different types of eCommerce analytics we list below:
Audience
The first crucial area of eCommerce analytics is the data about your target audience. This means their gender, age, location, languages they speak, occupation, devices they use etc. While this data might seem a bit basic at first glance, it's one of the most important eCommerce analytics types.
This data can guide your decisions when it comes to the marketing channels and marketing tactics you use, the type of shipping you offer, in which countries to invest the most of your budget etc. As an online business you have access to a lot of data about your customers and potential customers so it's important to leverage it to grow your eCommerce.
See how we used audience metrics to make Phillips' new gaming brand Evnia speak to their preferred customer group.
Acquisition
The next area of eCommerce analytics you can't skip is customer acquisition. How are you acquiring new customers? Which campaigns do they come from? Where is your website traffic coming from? Organic searches or paid marketing? All this data is crucial for making future decisions about which marketing channel to focus on and where you can improve along your user journey. By tracking and analysing customer acquisition metrics you can increase your conversion rate and the effectiveness of your marketing campaigns.
See how we can help you choose which channels to focus on here
Conversion
The conversion rate is a crucial metric for all eCommerce businesses. While being one of the key performance metrics, it's not the only conversion-related metric that's worth tracking. Your eCommerce analytics should also include additional metrics to provide context and a base for optimisation such as the number of repeat purchases, cart abandonment rates, how long it takes someone to change from a website visitor to a paying customer etc.
By analyzing data related to conversions you can optimise your user journey, website and products to increase overall business performance.
Read more: How you can use quality content to increase conversions
Behaviour
While some of the metrics mentioned above are already tied to users' behavior on your website, there's also other, more specific metrics you should be looking at. For example - how much does an average customer spend on each product page? How many web pages do they visit before making a purchase? How much time do they spend browsing the eCommerce store before converting? Those insights will enable you to have a detailed understanding of the full customer journey and where it can be improved and optimised.
Retention
And lastly, when it comes to consumer behavior analytics, we can't forget about customer retention. For most eCommerce businesses, a high lifetime value of a customer is a good result. But the customer lifetime value (CLV) is not the only retention metric that's important in the world of eCommerce analytics. You should also be looking at the percentage of returning customers, the churn rate, average purchase frequency rate etc.
Those metrics can not only help guide your decision-making but they are also the foundation of predicting revenue and growth based on existing data points. Online businesses, just like all other businesses, need to be able to estimate their future performance to determine how much they can and should invest in further growth.
In this article we won't be diving into more of the specific eCommerce metrics and KPIs you need to track as we already have a detailed list of the key metrics in one of our previous articles.
Implementing The Data-Driven Culture
As we said, being data-driven means more than just using eCommerce analytics tools. Those tools can provide you with valuable data-driven insights to guide your sales and marketing activities as well as product development and UX.
If you're looking for a partner to help you be more data-driven as an eCommerce - contact us and let's work together on optimising your online store's performance.

Thomas is CCO in Frontkom. His background is from the agency industry with more than 20 years as manager and senior advisor within eCommerce. Thomas is an expert at building complex customer journeys for online stores. He writes about eCommerce, customer club, integrations and how to succeed with your online store.