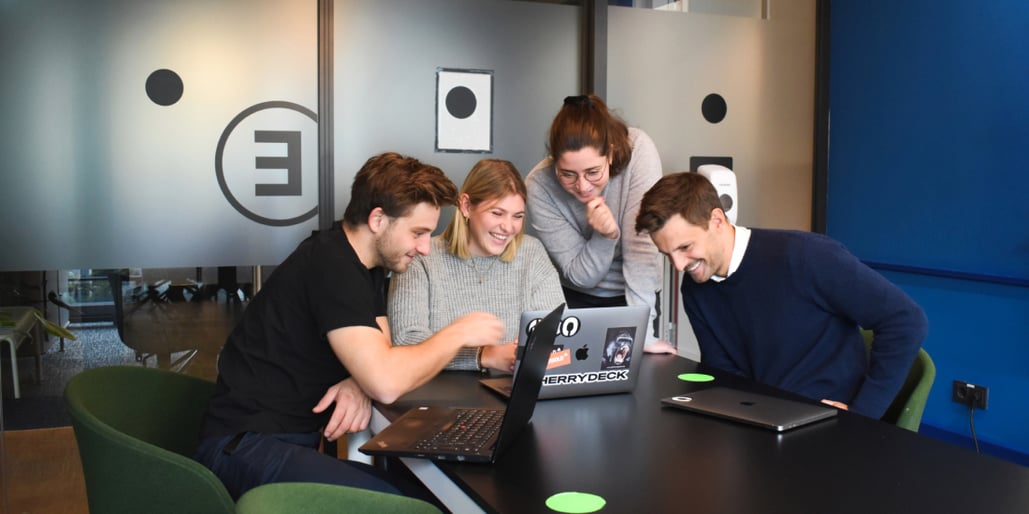 Working with a professional web development agency is an excellent idea for any business, especially if you're looking to level up your digital marketing strategy or leverage technology to improve your business processes and operations. But with so many web development companies, it's hard to decide which one will be the best partner for your business. Here's everything you need to find the right web development team.
Defining Your Needs
To find the best software company, you need to define what services you're looking for. While you don't need to know the exact technologies or frameworks, you should have a general idea of what you're looking to accomplish through the partnership with the web development agency. To define your needs, here's a list of questions to ask yourself before you start researching different vendors:
What am I looking for?
Depending on your needs, the web development company you choose will be different. It's important to decide whether you're looking to just outsource your project's web development, hire web developers or maybe you're just looking for web design services? Think about what competences you have in-house and whether you can utilise them to complete the project. Keep in mind that most companies benefit from hiring a full service digital agency even if they have web design and development teams in-house, because companies like this have a tried and tested web design and development process as well as experience implementing technical solutions into a digital strategy.
What should the product do? What problems will it solve?
The next key piece of information you need to prepare is the functionalities of the product. Are you looking to upgrade your existing site? Maybe you're looking to change content management systems? Or maybe you need a B2B eCommerce for your clients? The crucial thing here is to define what problems will the web application solve. Do you need to manage your marketing efforts more effectively? Or do you need creative solutions for your clients to gain a competitive advantage? Or maybe your current Wordpress site is preventing you from getting more customers? If you know what your goals are for the project, the web development team can help you choose the best technologies and solutions to implement for the best results.
Who will be using the product?
Another thing to figure out is who will be using the product. Is your target audience individual B2C customers? Or maybe enterprise clients who will use the product to manage their contracts with your company? Or maybe you want to offer the solution to small businesses to help them use your services? This is crucial information for the web development company you choose to partner with, because the needs of the target users will impact the UX design, information architecture and the overall web development process.
Are there any similar products on the market? If so, what do users like about them?
If there are solutions similar to what you're looking to develop - make sure to use them as references and let the web app development company know what the users or you like about them. Does the solution have a user-friendly interface? Is it mobile friendly? Maybe the website or web application is easy to manage and scale up?
What is my budget?
When defining your budget, always think of the web development services as an investment. With that said, it's also important to be realistic about your budget because it will help you choose a web development company that's best suited to your needs.
When do I need the final product?
Most of the time, you will have at least a loose deadline of when you need the product to be up and running. This is an important piece of information you should definitely share with your potential web design and development partner. Keep in mind that a lot of the time web projects take more time to complete than you'd expect and you should trust your web development partner with their time estimates.
Do I have any internal documentation on the product?
Think about any documents you and your team might have prepared - maybe a simple mind map of the functionalities? An overview of the key stakeholders? Maybe some sketches of the User Interface? All of this will be extremely useful when talking to web development companies you might want to work with.
Researching Web Development Agencies
Now that you've defined your needs, you can narrow down the search. Your answers to the above questions will help you determine what type of contractor you're looking for. Do you need website design? Or maybe branding services? Is the project revolving around e-Commerce development or other web development services (like back-end or front-end development)? Do you need your partner to also create content for you and help with social media marketing? Based on your needs you will be able to search for more specific companies or even specific web technologies, which makes this process easier and quicker.
Where To Look For Web Development Services?
When it comes to looking for web development, mobile app development or web design services, there's several specific websites you can use to find the best vendors. Of course, using Google is still a possibility, but the choices below are focused on web design, web development, mobile app development etc. and their purpose is to evaluate companies in this specific industry. Thanks to this, the results are more credible than a Google search. So, without further ado, here's a list of websites you can use to research web development agencies:
Clutch might be the most popular listing site for web development, mobile app development, web design as well as digital marketing agencies. You can easily find companies in your region (or outside of your region) and check out what services they offer as well as clients' reviews. What's important is that each review has to be submitted by a logged in LinkedIn user and is verified by Clutch. This makes this website a very reputable and trust-worthy source.
This website is primarily focused on the European market but is very similar to Clutch in terms of content. A lot of different agencies list their profiles there for you to find. Sortlist also offers personal assistance if you're looking for an agency and they can help you find the right match.
Aciety is a website that's mostly targeted towards big software projects for large companies (like EA, Google, Ikea). So depending on the size of your business or your web development needs - you can use this one.
This website is more so focused on graphic design, UX/UI and web design services, so if you're looking for a web design company to create your new website, make the existing one more visually appealing or implement responsive design - this website should be a good place to do your research.
Unlike other websites, Youteam is more so focused on individual mobile and web developers. Use this website if you're looking to hire a top web developer for your existing team or, for example, if you only need maintenance of your current web or mobile project.
Evaluating Potential Partners
Once you've found potential web developers and designers for your project, you need to decide which web design, development or digital marketing business to partner with. The specific agency you choose will largely depend on the project at hand, but there's also some other aspects to consider.
Previously completed projects
The first thing to take into consideration is the background of the business you want to partner with. Take a close look at their portfolio and case studies - are there any projects similar to what you want to build? Did they build something for other clients that related to your tech needs? Your ideal partner will have either experience within your specific industry or experience with a similar web project.
Technology stack and competences
When choosing a development agency, their technical skills and focus areas are a key element to consider. If you're looking for mobile app development, you will be looking for a different tech stack than if you were looking for website design or e-Commerce website development. Ideally, the partner you choose will also be familiar with the technology stack your business currently uses. This way you can ensure a smooth integration of the new project into your current architecture.
Team size and location
Another thing to consider is the size of the team the chosen development partner has on board as well as their location. Most of today's web design/development companies work remotely, which is usually a great benefit for you, because it means they are not constrained by a particular location when sourcing talent. However, you should consider whether they have a team big enough to suit your needs as you scale the business and have more complex development needs.
Reviews and recommendations
The last, and probably the most important, element to take into consideration is what their current and past clients say about the cooperation. Again, you can check the references on some of the websites mentioned above. Clutch is especially useful there because they verify the clients and their reviews to make sure you get accurate information.
With all this information, you should be able to choose a great web or mobile development partner for your business. If you're currently looking - contact us and let's see if we'd be a good match!