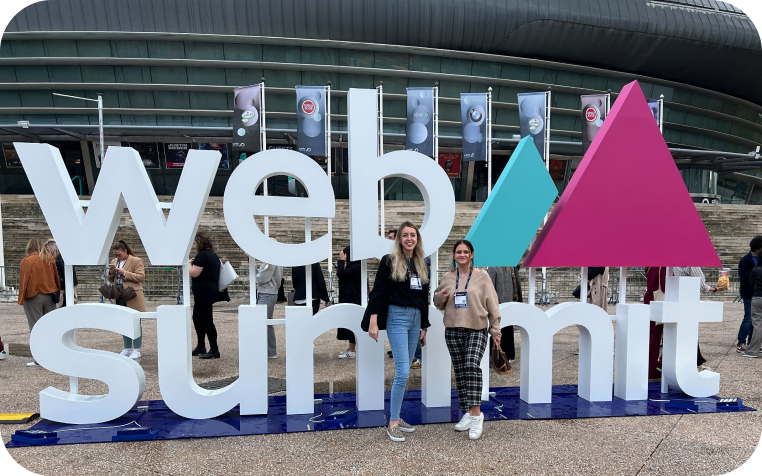 Web Summit has been a staple event in the tech world for years now. This year it broke all kinds of records with over 75 000 people attending. So, what were some of the highlights of the event and what did I find the most interesting?
The importance of sustainability
One of the biggest topics at the conference was sustainability. Even though the world has been more aware of sustainability issues, now it's more visible than ever how companies try to move in a more sustainable direction. And I personally think that's amazing. As a massive Formula 1 fan, it was great to hear Toto Wolff speak about how the Mercedes AMG F1 team is trying to be more sustainable through their partnership with TeamViewer. Their goal is to reduce their carbon emissions to zero by 2030 which, considering the nature of the sport, is a very big step not only for the team but for the entire industry.
If we can do it, everyone else can do it."- Toto Wolff
This was one of the best quotes of the entire conference for me. I think the fact that a company like Mercedes AMG F1 Petronas Team is focusing on eliminating their emissions shows that it's not only possible but also necessary. When hearing all about sustainability I thought how glad I am to work at a company that values those initiatives and encourages them.

How web3 will change our world
The next topic that filled the entire conference was Web3. With an entire stage dedicated to crypto and Binance's CEO, Changpeng Zhao, taking the centre stage on the first day - you can tell how important decentralised, tokenized structures are now. But what's more important is how they are changing other industries, sometimes those we wouldn't necessarily connect to the tech world right away.
One of the most interesting startups I've been introduced to is Sealution. It's a B2B hardware-enabled software that creates an IoT-like system aboard merchant vessels. The startup solves a lot of connectivity issues aboard ships with complex technology, which is an extraordinary example of how, under Web3, technology can change previously untapped markets and industries.
Focusing on the user experience
This topic is nothing new, especially for me as I've been working for software development agencies. But in the current economic climate, ensuring an excellent user experience is more important than ever, not only for attracting new customers but also for customer retention, which is key to surviving in today's market.
One of the best speeches on this topic was delivered by Yuhki Yamashita, the CPO at Figma. According to him, most products are actually built with a solution-first mindset. His view is that not all products have to start with a problem statement - you can start with a tool and improve it as you go based on the feedback from your users.
"Some of the best ideas are built based on intuition." - Yuhki Yamashita, CPO at Figma
According to Yamashita, the design process has changed over the years to adapt to the ever changing world - that's why we need to iterate on our work while trying to structure the process. His view is that we live in a world that's always "in progress", which I can completely agree with and I think most of us can too. But if there's a clear goal in mind, it's always easier to navigate this work in progress.
What will we experience in the Metaverse?
The metaverse was also a big topic at the conference, which doesn't come as a surprise, considering how many companies are trying to get ahead of that trend. It was especially interesting to see how a brick and mortar store like Walmart is using this strategy. Walmart utilises the power of the metaverse to bring customers in and engage them more - the users can play their Walmart Universe of Play game and then go into the store for an experience that's familiar and welcoming. This strategy helps them establish a presence across different channels and engage more audiences, which ultimately one of the biggest advantages of the metaverse. I hope we can work with more clients interested in making this a reality.
The best part? The Night summits
While the entire conference was an incredible experience, in my opinion the best part were the Night Summits (which is what Web Summit organisers call their evening events). I have to say, they were organised very well and were also fully-cashless events which I appreciate very much. But this is not the main reason why I think they were the best part of Web Summit 2022.
At the Night Summits you could meet people in a more casual setting and it was so fun for me to talk to representatives of all different industries, nationalities and age groups. One of the very interesting things I noticed is how many young people attended the conference. I talked to several of them and it's amazing to see the new initiatives they have come up with. As someone who was interested in business from a very young age, it's good to see like-minded people so invested in changing our world for the better with their ideas.
If you want to receive updates about events just like this, sign up for our newsletter. See you at Web Summit next year!