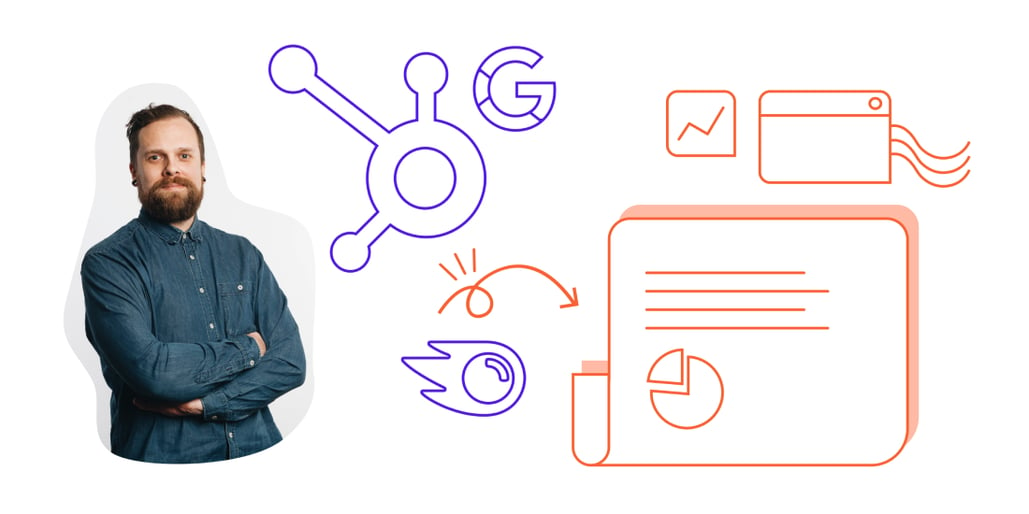 All businesses know that they have to be present online, but many make digital changes with little to no guidance. The term digital strategy is quite diffuse and extensive. In this article you will get a better grasp of the term.
The digital world is so enormous and many-faceted that it's difficult to make all the parts work towards a common goal. How often do we publish in social media? Should we prioritise LinkedIn or TikTok? Should we use the company account or private ones?, And what about SEO, the blog, emails, ads, search terms and the third party tools?
What is a digital strategy?
Generally, like in analogue strategies (if that's a thing), it's about setting goals, plan actions to reach the goal, prioritise those actions, and lastly perform them.
The goals can be big or small, but have to be adjusted to fit the main goals and strategy of the business.
What bits the strategy contains depends on the goals the business defines, but some examples may be:
To gain awareness around what you do

To sell more products or services

Helping customers find information about a subject

Increase awareness about and loyalty to a brand
This is what makes it difficult to clearly define the term: That it's about making good decisions within many different disciplines.
Before we look at how it plays out in marketing, let's establish three ground rules.
Make data based decisions
The starting point for defining a business' digital strategy is to value data higher than gut feelings or opinions is all but a few cases. Sometimes you don't have enough data to make accurate assessments, but that's the exception. The data should be your guide.
The reason is that data can often suprise you in an ever evolving world. Things that worked 10, 5 or 3 years ago, or even last year doesn't necessarily work today. As a digital marketer it may be easy for me to make the assumption that high school students are the same as I was when I went to school, and give universities advice on how to recruit them on that basis. But the truth is that they are different in many ways: They have other cultural references, use a different language and are more competent.
Consider who will use the strategy
Think about how the strategy will be used after the workshop is over. Ideally it will be easy to use by the people who will execute the actions which lead toward the goals. The people whose daily job is to perform tasks, don't need a long word-document with lengthy paragraphas about backgrounds etc. Hopefully they were part of the goal setting process and are aware of that stuff. If you give them that, it will likely gather dust in a folder somewhere. It's better to boil it down to one or two pages which will see use than ten pages which are skimmed and forgotten.
Customer insight can not be overestimated
As mentioned, reality can often be different than one thinks. Lego used to think that they made toys for kids. But when they took a closer look (read: performed large scale market research) they discovered that a large contingent of their users were adults. In the late 90s they therefore launched product lines for older audiences, which became big successes.
If they hadn't purposefully aimed to understand their users, this almost 8000 piece beast would never have seen the light of day:
A dark thought.
Market research around a website, app or the services they contain also have the potential for surprise. Best case you find new ways to use your products, new ways of communicating or new markets to service. Worst case you've confirmed your assumptions and know exactly why what you do works. And that's valuable insight in itself.
Digital strategy and goals

The first thing we need to do when making a digital strategy is setting goals. We use the S.M.A.R.T. framework, which looks like this (read the linked blog post for a deeper explanation):
Make a list of about 20 goals

Arrive at a list of 3-5 through voting

Run every goal through the S.M.A.R.T-gauntlet:

Is the goal specific?

Will the results be measurable? (This is where KPIs come in)

Is the goal attainable with the available resources?

Does the goal follow the relevant guidelines the business steers by?

Can we set a timely deadline?
These 5 points will both eliminate and specify the goals. If a goal isn't for example measurable, it isn't SMART.
Planning actions
Here every process will be unique according to what goal(s) you've set. We don't want to push any business onto the path which suits us best, but focus on what your business needs to grow.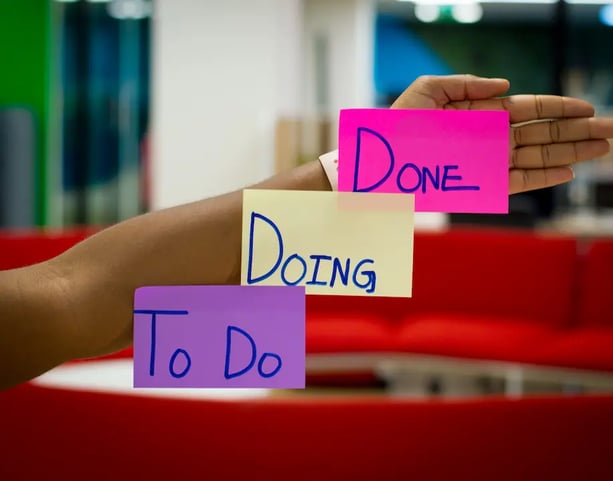 In some S.M.A.R.T-workshops we've concluded that the most important thing for the business isn't improving their website or content at all, but for example analyse the current processes for managing the leads they already have. In that case their highest priority wasn't marketing.
At Frontkom we therefore have established processes for many areas, where we can bring in the resources we need. For instance:
Technology use and optimisation

SEO

Inbound marketing and content production

CRM (Hubspot)

Design and user experience
...and much more.
To give an example:
Let's say the marketing department need more leads within a target group, which they can qualify into MQLs and send to sales. The process can go something like this:
Inventory mapping: Content, data, owned and rented digital channels

Mapping the business: What you offer the market, brand analysis, employees, processes and systems

Analysis and prioritising target groups and personas: What content do they want and need?

Prioritising the relvant channels for marketing and sales

Establishign an annual wheel with events and planned campaign and activities

Planning customer journeys to cover all needs in a sales funnel

Workshop(s) to come up with ideas for content production
In this phase we use something we call the growth charter, which makes it easy to fill inn the different points.
What actions give us the best ROI?
Unless the business is huge and with a limitless budget, there is no way to to everything in every channel. We therefore focus on where we can get the most back from the least amount of work, i.e. where we have the biggest success chance.
In the example above the problem is either low visibility or irrelevant (for the target group) content. Customers aren't finding you, or the content on your site doesn't meet their needs in a way that makes them want to e.g. leave their email address with you.
What the issue is is uncovered through customer and user surveys along with analysis of things like your landing pages and Google Analytics-account.
Maybe you're focusing on keywords that have high competition and established players who are difficult to catch up with? Or maybe a high bounce rate and limited engagement on blog articles shows that you're not answering the questions customers are asking?
In the first case you'll get the most out of your money by doing keyword workshops to find the keywords and phrases you want to rank on which aren't too populated already. Then we'll make landing pages and/or articles which makes you searchable.
In the second case the answer will be to gather information from customers and your sales team, to be able to rely to the specific questions your customers ask.
When we know what the problem is, we can make strategies to solve it. The data shows us the way.
Time for action
It's about to go down, but who is doing what? And how to keep track of all the themes to be written about and displayied in ads, social media and the blog? In the example of lead generation we use a few tools to help us with the operational part of the strategy:
We'd love to assist you
As you see we've moved from a big, kind of opaque problem and massaged it until we have a specific problem and a plan to solve it. Every issue has its own action plan, which you'll read about in the blog in the coming weeks.
If you need help with making better digital decisions and set up a digital strategy that works, don't hestitate in contacting us!

Sven is part of the Experience Team in the role as content producer and project manager. He writes about customer experience, content, trends and digital marketing from his experience and creative work.