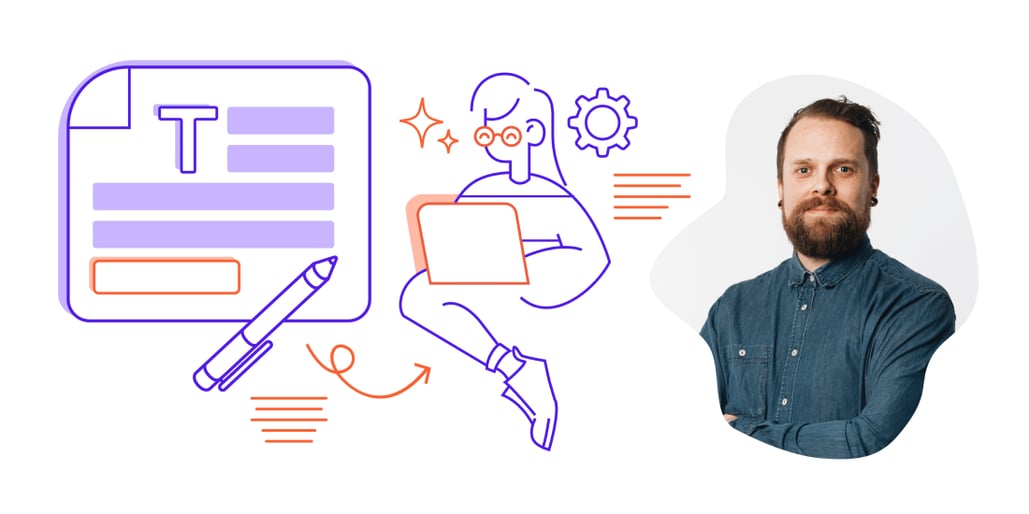 Copywriter, communications consultant, content producer. In-demand roles these days, and it's no wonder. In order to both attract and retain customers in 2023, you will have to offer them useful and relevant content, both in text and video format. But when should you hire one, and when does it make more sense to get external help? Here are four questions you should ask yourself before making a decision.
What

is the goal for the content?
Or: what is the scope of the work? A content producer comes in many different guises. Some are all-rounders who know a little (or a lot) of everything, and some have delved into a few specialist areas. But they have in common that they do not have the capacity to run a full content package on their own.
If your goal e.g. is only to produce material that the sales department can share with potential customers, hiring one or two content producers is fine. They will be able to produce a couple or three blog posts a week, and use the CMS for publishing. They will interview salespeople, other employees and ideally customers to produce sales support content.
If the goal is for potential customers to find you via Google or advertisements, and from there you want to "warm them up" towards a sale and keep them interested afterwards, in addition to the content producer, you need:
In our experience, doing things halfway is a bad investment. If you don't choose the right keywords, or don't think about it at all, you're going to spend a lot of time producing content that won't be found. If you do not have a CRM such as Hubspot, you'll soon discover that sending out newsletters to individual email addresses, remembering where each contact is in the sales funnel, etc., is more work than it's worth. The only thing you might be able to do without is Google Ads, but that's if what you offer is so unique that you're only competing with a small handful of businesses.
If you want customers to find you online but don't have the budget to create your own content department, it is almost always best to hire external help. Then you only buy a certain number of hours, but get access to all the required expertise.
Are
you sure you will get hold of qualified people?
If you've decided to produce content, you'll be joining a long line of other businesses looking to do the same. The competition for the best copywriters is tough, and if you want to bet on the "whole package", the competition is even greater. The most experienced may have tried their hand at companies in the past, and have been alone with far too many tasks. They therefore tend to choose agencies, where they can work together with others doing the same thing full-time.
At the same time, text production adapted to the web is something that can be learned. If you invest in sending your content producer to courses and webinars, you may well have the writer as an employee already. Just don't give the person the role of copywriter on top of the full-time position they already have. However, if you hire someone new and do not have too many demands for immediate results, you're set.
How quickly must the content be in place?
It takes time to build up a content bank. Each business area you have should be supported by a minimum of three related pieces of content to cover the general stages of the sales funnel:
Top of the Funnel - TOFU - Broad content designed for organic search

Middle of the funnel - MOFU - Solution-focused content

Bottom of the funnel - BOFU - Content that helps customers choose between solutions
If you have plenty of time before you see results, and have the budget to build a content team, you will, After it gets started properly, start seeing results after six months to a year. Maybe one or more of the leads you get out of it will be enough to cover the costs of running the department, or maybe you have to wait longer.
You get the picture - engaging in content marketing is an investment that pays off in the relatively long term. If you're in a hurry and want to get a content bank up and running as quickly as possible, it's probably best to hire outside help.
Do you have the capacity to focus on several things at once?
Creating a separate content marketing department will require a lot from you, whether you only hire copywriters or run a full package. Many have succeeded, by all means. But it is, in addition to costing money, a separate specialist area. It will divide your focus between producing the market's best solutions in your field and managing content.
If it's something your company is set up for for, go for it. As a digital marketer, I think that content production is a lot of fun to do, so I can't understand why not everyone wants to learn it. But if you would instead like to focus on your core area and rather let others bring in customers for you, I will gladly take on that job. Then you can, for example write a quick message via our contact form and we will respond quickly.

Sven is part of the Experience Team in the role as content producer and project manager. He writes about customer experience, content, trends and digital marketing from his experience and creative work.