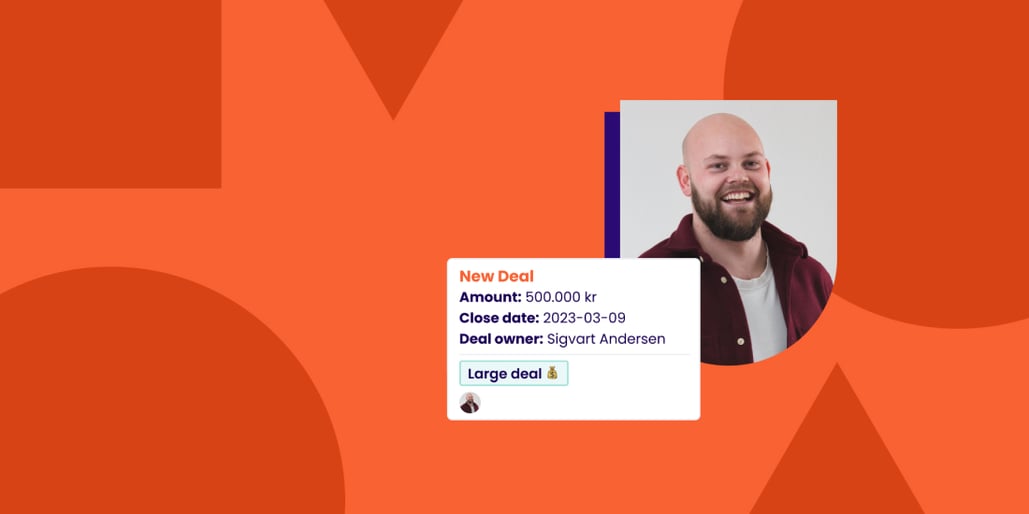 In sales, time is money. As your business grows and your sales pipeline becomes more complex, it can be challenging for your sales team to prioritize which deals to pursue. We'll explore what deal tags are, why they matter, and how to use them to boost your sales teams efficiency.
With the new customizable deal tags in HubSpot, you can simplify your sales process and help your team work smarter, not harder.
HubSpot is constantly innovating to provide sales teams with the best tools to drive growth and increase revenue. The latest addition to their arsenal is the ability to create customizable deal tags.
This feature is designed to help sales reps quickly identify and prioritize deals, making their work more efficient and productive. In this blog post, we'll explore what deal tags are, how they work, and why they matter.
Read also: How HubSpot's AI tools are fueling a better user experience
What are deal tags?
Deal tags are a simple yet powerful tool that allows sales reps to mark deals with specific criteria to make them easier to find and track. For example, a super admin can create a deal tag called "Urgent" for deals that need immediate attention or "Negotiation" for deals that are in the negotiation phase.
The tags can be customized to match any criteria relevant to your sales process. Once a deal is tagged, it will appear on the board view and can be filtered by the tag name.
Why do deal tags matter?
As a business grows and deals start to pile up, it becomes harder to keep track of everything. Sales reps can quickly become overwhelmed, spending valuable time sifting through the board view to find the deals that matter most.
Deal tags solve this problem by providing a visual cue that helps sales reps quickly identify and prioritize the most important deals. This translates into better productivity, fewer missed opportunities, and ultimately, more closed deals.
How do deal tags work?
Creating deal tags in HubSpot is a straightforward process. Super admins can create up to ten tags based on specific criteria that they set.
For example, you can create a tag called "Large deals 💰" in green for any deals with an amount greater than $25,000. On the board view, all cards with an amount greater than $25,000 will be marked with that deal tag.
Sales reps can easily identify and prioritize deals marked with this tag and can filter the board view by "deal tags" to show only cards with specific tags.

To create a new deal tag, follow these simple steps:
In Deal Pipelines Settings, click the new "Customize deal tags" link.
Create a new deal tag and give it a name that reflects its purpose.
Set the criteria for the tag based on any available deal properties, such as deal amount or deal stage.
Choose a color for the tag to make it visually distinct from other tags.
Save the tag, and it will appear on the board view for all relevant deals.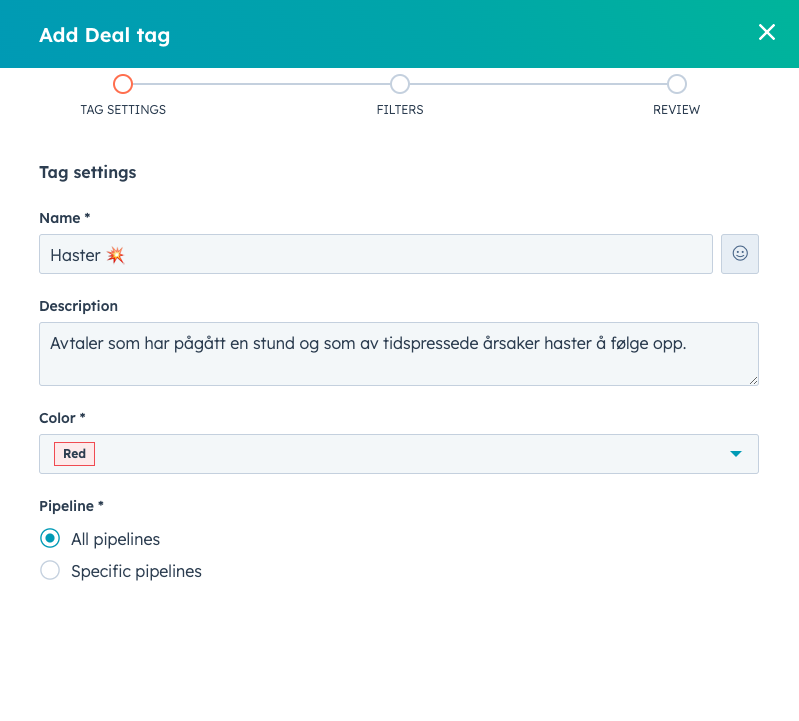 A few things to note:
Deal tags can only be created and edited by super admins.
Color deal tags are currently only available for the deals object and on the board view.
HubSpot allows a maximum of ten (10) deal tags per company account.
Who gets deal tags?
Deal tags are available to HubSpot Sales Starter, Sales Professional, and Sales Enterprise users. They apply to all pipelines for Sales Starter users, while Sales Professional and Sales Enterprise users can apply them to a specific pipeline.
Conclusion
Deal tags are a simple but powerful tool that can help sales reps stay organized and focused on the deals that matter most. With the ability to create up to ten customizable tags, super admins can create specific criteria that match their sales process and help sales reps work more efficiently.
By using deal tags, sales teams can improve productivity, close more deals, and grow their businesses.

Sigvart works as a Digital Marketing Manager in Frontkom. He comes from the startup industry and is used to a fast-phased and agile environment. Sigvart manages the digital marketing for our clients with a speciality in HubSpot. He writes about how to boost traffic, convert leads, delight your customers and how to automate marketing.