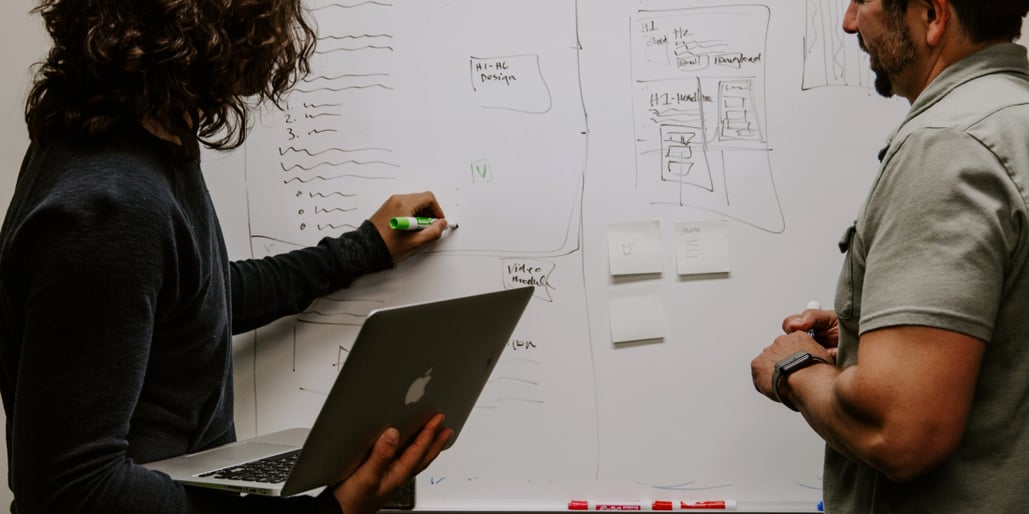 Every large organization needs an air-tight digital architecture for managing their processes and assets. And while most have a system in place, it could likely benefit from integrations to other systems to create a custom architecture suited specifically to your business's needs. In this article we're going to explore different types of systems and how they can work together to create a streamlined super-architecture.
At The End Of The Day CMS, PIM And DAM Are All Management Systems
Before we dive into the specific differences between CMS, PIM and DAM systems, it's important to note and understand that all have the same purpose - management. Improving the workflow and streamlining the process in some way. The major differences between them are largely related to the type of work managed by those systems.
With that in mind, it becomes obvious why integrating your PIM and DAM or your PIM and CMS (or any other combination) is such a good idea. By doing so you're creating an architecture which encapsulates your business's entire operation and not just a specific part of that operation.
Product Information Management (PIM) System: Key Features & Benefits
A Product Information Management system's main purpose is to store product-related information from basic product codes and names, stock availability and product images to more specialised marketing materials like keywords or personas (or any other product-related asset). PIM systems are primarily used by eCommerce businesses or retailers. The main benefit of using a PIM system is that they usually integrate data from a CMS, CRM and other platforms. They help manage a dynamic product range with new products coming in frequently as well as help manage any changes to said products. Alternatively, a PIM system can be the main resource, powering other systems (a website using a CMS or Portals). We've worked on a PIM-driven architecture like this before for AOC and you can read more about it in our case study.
A lot of companies use a CMS in place of a PIM and it can be a viable solution, but when working with large volumes, large numbers of products across different platforms and various channels, a PIM system is a step up and would be the better choice. It can become a resource for the CMS to use and your central database.
Content Management System (CMS): Key Features & Benefits
Since we've already touched on CMS a bit, let's dive in. Content management systems are some of the most common tools used by today's businesses. As the name suggests, their main purpose is to manage content. While the type of content can be different (videos, images, articles or even products), a CMS is generally more basic than a PIM system, simply because it was never meant to manage product data specifically. But the main difference here is that PIM systems are geared towards, well, products.
With that said, a CMS is a great starting point for further integrations and can be transformed into a central repository of all assets, depending on the specific needs of your business.
Digital Asset Management (DAM) System: Key Features & Benefits
The last big type of a system is a DAM system. DAM stands for Digital Asset Management and the main purpose is to have a central location for all the internal assets - documents, images, videos and other digital content. However, in recent years DAM systems have been growing to also include automated workflows and brand guidelines as well as other features and types of assets. This means that a DAM system is often at the core of the entire organization, being the single source of brand assets that everyone can access and use.
DAM systems help ensure brand consistency across different channels (be it marketing or sales channels), improve employee onboarding and make collaborating on documents and processes easier. DAM platforms usually become an integral part of an organization and that's why we believe a lot of businesses would benefit from leveraging integrations, like a PIM and DAM integration, because it creates a custom architecture, perfectly suited to the needs of a specific organization.
Using Integrations To Create A Super-Architecture For Your Business
CMS, DAM and PIM systems, of course, have their key differences and distinctive capabilities but they share a common goal - each one of these systems aims to improve workflows and automate processes inside your organization. They all essentially help manage different types of data and assets. But the thing is that many of these areas will overlap - for example, product images or videos are also a company's digital assets. They can be used for marketing campaigns or as website content. When thinking about it, it's extremely useful to integrate PIM and DAM systems or CMS and PIM systems (or other combinations, sometimes all three). Here are the main benefits of integrating large-scale systems:
Managing Digital Marketing Across Multiple Channels
Managing multiple sales and marketing channels without integrating different systems is possible and works well in many cases. However, especially when it comes to large-scale organisations, an integration between a DAM, CMS and PIM can be extremely helpful to the marketing team, enabling them to offer relevant content and better utilise different digital assets while being sure all the data is correct and current. Especially when working with different channels that are managed via a CMS, connecting that to a DAM solution can create a powerful machine that elevates the customer experience.
Minimising The Amount Of Work Needed For Systems & Digital Assets To Stay Up To Date
If your company uses multiple of these systems, it can be hard to always ensure they contain the same information and assets and that everything is up to date. By integrating them you not only minimise the amount of work needed to update them but you're also eliminating the extra risk of human error. If your systems need to be frequently updated, this means there's a human responsible for entering the data from one system to another. And that simply increases the chances of an error finding its way through. By integrating PIM and DAM systems or CMS and PIM systems (or other combination), you make each of these systems easier to manage and maintain, while at the same time ensuring the data generated by these platforms is more accurate.
Managing Workflows And Assets At Scale
Another key reason why companies often integrate their CMS, DAM and PIM systems is because it enables them to manage complex processes and workflows at scale in one central location. By connecting two systems (or more), you essentially also connect your marketing teams, graphic designers, sales teams, management teams as well as actual customers. You can create different access levels to make the architecture more secure as well. Overall, an integration of CMS, PIM and DAM systems is great when your company is experiencing rapid growth - because it's most likely resulting in more digital assets, more customers and more data and digital content to manage.
If you're looking for experts with experience integrating such systems, check out our case study on how we created a PIM-driven web portal for AOC or contact us to learn more.