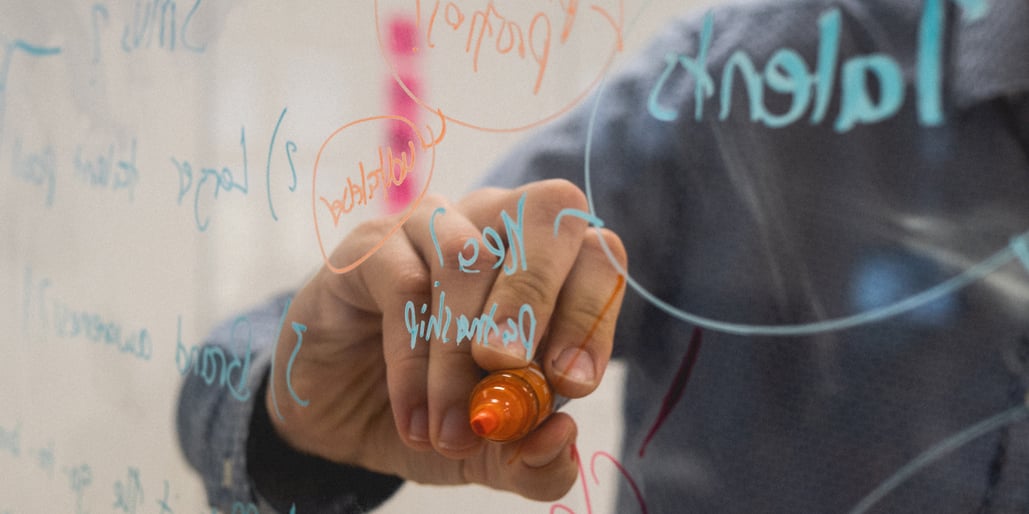 The whole process of creating a new visual identity may take months and seem complicated and unnecessary. Especially if you are time- and resources-constrained, and struggling to show results to the investors. On the other hand – you need an identity to present your startup, to attract both investors and users and to differentiate in a competitive market. How to find the balance between unique visual identity and the need to streamline the investment?
Discover, align, prioritize – workshops are there for a good reason
A good foundation for any branding strategy: well executed discovery phase. In order to create your unique brand identity the vision needs to be shared and well understood. You can still use a design brief, but it is just a starting point of the discussion.
The questions that are covered during the workshop go much deeper, and allow every stakeholder to participate in creating the shared vision. By using exercises and time constraints it allows you to put complicated abstract concepts in words – and fast. Expressing all those concepts in a brief is very difficult and usually a work of one person. Having them discussed during the workshop builds shared understanding and improves the communication.
During the workshop we build a shared understanding of your mission and vision. We explore what, how and why of your service as well as phrase your startup's value proposition. Together we decide on brand personality, starting from its values and moving into personality sliders that would express its uniqueness. We work on brand positioning as well, drawing the competitive landscape and defining your niche and target groups.
Every part of the workshop is documented, either as a Miro board or a document with photographed post-it notes. It becomes a basis for future decisions.
Kickstart the design with research and insight
Your new brand personality needs some competitive research to establish existing conventions and find ways to make it different. This process results in moodboards, which show you possible approaches to new visual identity. Using existing elements sorted into curated collections you are presented with possible paths for design.
Having done the workshop and research we can put your new startup's brand in words. To create a concise feeling of a new endeavor we use brand statements: what it is like and what it stands for. This defines the personality of a new brand and sparks the imagination for word associations. These take the form of word clouds that let us explore connections and decide on symbols best suited to represent the brand.
Starting the work on your new logo we sketch, usually using pen and paper. This way it is possible to generate many versions and explore multiple rough approaches quickly and effectively (while working in digital space usually means fixating on precise details). Some of these sketches quickly become promising, while many others show dead ends and paths not suited for your new brand. Some of the sketches become a base for digital versions that we present in the next step.
A lynchpin of new visual identity – choosing new logo
At this phase you have an important decision to make: to choose between 2–3 versions of the logo that you are presented with. You decide not only on one image: each of the proposals shows multiple mockups of possible real-life applications. That way it's way easier to imagine the end result and how the visual identity would work.
The alternates are checked multiple times against the workshop results and presented with respective insights. It ensures that there is no deviation from the initial plan and makes the decision easier by framing it in research.
Sometimes one of the proposals seems like a good option, but you feel that it's not there yet. You may then request that more work is done on one of the paths, changing the result according to your viewpoint. We suggest limiting the iterations to three, to make sure that we stay on schedule and within budget. At the end of this process you approve the final form.
Quick deliverables for lean startups

With startups, time to market is especially important. With your new logo chosen it's time to get the essentials. You will get logo files in multiple formats, both for web and print. You are also provided with mockups used in the proposal presentation to get you started. There are still occasions where business cards are useful for meeting new investors, so they are part of the package as well.
What does your startup need to present itself to investors? A web presence. This means social media templates that are one of the main methods of communication. You are provided with cover images, avatars, and post frames for LinkedIn, Facebook, Twitter, Instagram. If you need more social media presence, we discuss this and budget in advance.
It's also important to be able to completely control the narrative, without relying on the whims of social media algorithms. And that's where your landing page comes in. At the very beginning your startup usually doesn't need a complicated web page. But being searchable and having an established url is a must to be taken seriously. So we limit the initial delivery to one scrollable web page that explains your value proposition and creates an anticipation for new exciting services. That way you have it running very quickly, and in 80/20 Pareto fashion have most of the basics covered while within a tight schedule and lean budget. Both design and implementation are provided, with deployment on chosen url and server included. At this point you are ready for your pitch meetings.
Next steps
At some point your startup may meet new challenges. Exceeding the pure MVP and looking for growth creates a need to expand the website. Maybe there is a need to automate processes, or create a dedicated app. In both cases you have reliable support in Frontkom and years of experience to help you expand.
When growing there is another problem to address: when new talent is hired and new venues explored it's difficult to keep the branding consistent. Explaining it clearly to new hires and making sure that the communication stays on brand results in the need of brand guidelines. While not needed initially for an MVP product, they become indispensable when the organization matures. Ways to use the brand assets, dos and don'ts, brand colors for print and web – we have you covered in every aspect.
Have some special applications for your startup's branding, like AR or VR? Frontkom's 3d designers and developers can help you there too. Or maybe you need your offices to include a wayfinding system, or outdoor advertising. Contact us and discuss your needs

Łukasz is Head of Design at Frontkom. He has more than 20 years of experience and is keen on solving problems using design. He writes about best practices, universal design and how user experience can help your business.